Cranberry Deluxe Mix 450g
A delicious blend of freshly batch roasted almonds and cashews combined with the tangy sweetness of cranberries well known for their antioxidant content.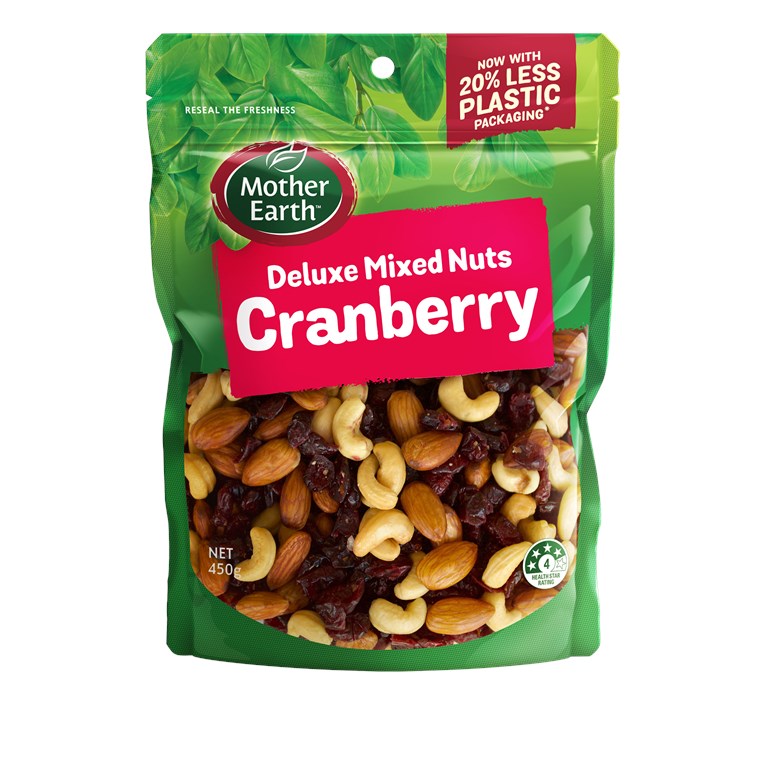 Good source of vitamin E

Low in sodium

Source of fibre

Source of magnesium

Source of antioxidants

Source of monounsaturated fats

Vegan friendly

Packed in New Zealand
Roasted Nuts (Cashews 33%, Almonds 33%, Sunflower Oil), Sweetened Dried Cranberries (33%) (Cranberries 60%, Sugar, Sunflower Oil)
Servings Per Package: 15
Serving Size: 30g
 
Avg Qty
Per Serving
Avg Qty
Per 100g
Energy
633kJ
2110kJ
Protein
3.6g
12.0g
Fat
10.2g
34.0g
Saturated
1.2g
4.1g
Transfat
0.0g
0.0g
Polyunsaturated
2.0g
6.7g
Monounsaturated
6.4g
21.3g
Carbohydrates
10.2g
34.0g
Sugars
7.6g
25.2g
Dietary Fibre
2.5g
8.4g
Sodium
2mg
5mg
Potassium
136mg
453mg
Anthocyanins (Antioxidants)
9mg
30mg
Magnesium
51mg (16% RDI*)
171mg
Vitamin E
3.6mg (36% RDI*)
12mg
Contains Almonds and cashews as indicated in bold type on pack
May be present: Egg, Gluten, Milk, Peanuts, Sesame, Soy, Sulphites, Other Tree Nuts and Wheat.
How nuts are grown

Nuts are a natural product grown and harvested like other produce. Some are grown in the wild, such as Brazil nuts, while others are farmed, like almonds.

Nuts serving size

Eating a handful of nuts a day is recommended for good health and nutrition.  Different nuts contain different nutrients so eating a mixture of nuts is best!

Nut nutrition

Nuts causing weight gain is a myth. Nuts naturally contain many nutrients and good fats, which keep you fuller for longer.