Natural Deluxe Mixed Nuts 400g
Delicious blend of natural cashews, almonds, macadamias and hazelnuts. Natural means the nuts are raw (not roasted).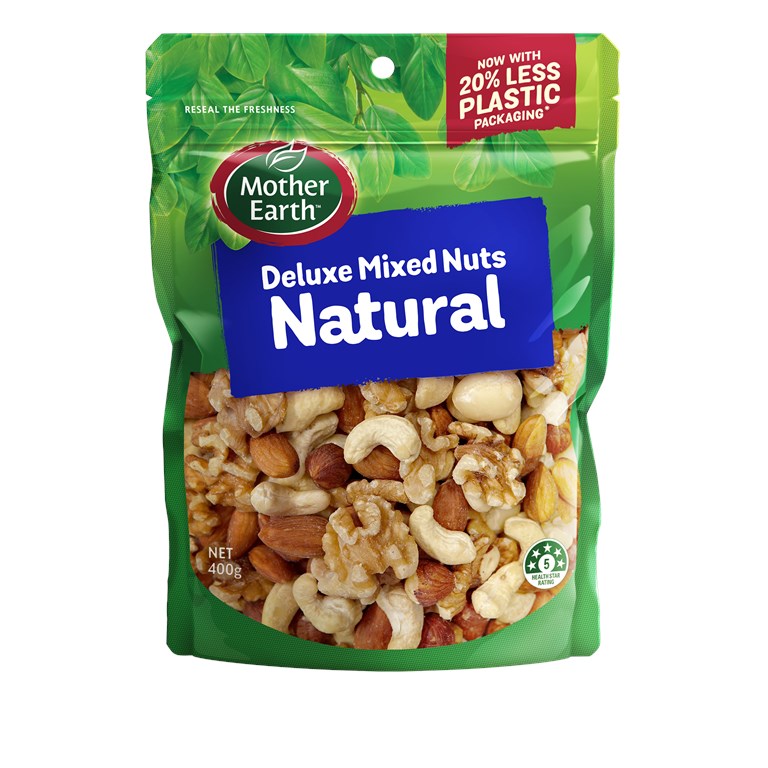 Source of protein

Source of omega-3 fatty acids

Source of monounsaturated fats

Good source of vitamin E

Source of fibre

Source of magnesium

Source of vitamin B1

Packed in New Zealand

Vegetarian and Vegan friendly
Almonds (31%), Cashews (27%), Walnuts (18%), Hazelnuts (17%), Macadamias (7%)
Servings Per Package: 13
Serving Size: 30g
 
Avg Qty
Per Serving
Avg Qty
Per 100g
Energy
786kJ
2620kJ
Protein
5.0g
16.5g
Fat
17.1g
57.0g
Saturated
1.6g
5.4g
Transfat
0.0g
0.0g
Polyunsaturated
4.9g
16.2g
Omega-3
354mg
1180mg
ALA
354mg
1180mg
Carbohydrates
2.9g
9.6g
Sugars
1.4g
4.6g
Dietary Fibre
2.5g
8.4g
Sodium
1mg
4mg
Potassium
186mg
620mg
Magnesium
63mg
211mg
Vitamin B1 (Thiamin) 
0.1mg
0.4mg
Vitamin E
4mg
13mg
Contains Almonds, Cashews, Hazelnuts, Macadamias and Walnuts as indicated in bold type on pack
May be present: Egg, Gluten, Milk, Peanuts, Sesame, Soy, Wheat, Sulphites, Other Tree Nuts and Wheat.
Natural nuts

Natural nuts is another way to describe raw or uncooked nuts.

Fats

Fats are listed on the nutrition information panel in different groups, mainly saturated and unsaturated fats. Large quantities of saturated fat are best avoided. Unsaturated fats are a healthier type of fat, and there are two types: monounsaturated and polyunsaturated.

Nuts serving size

Eating a handful of nuts a day is recommended for good health and nutrition.  Different nuts contain different nutrients so eating a mixture of nuts is best!