Mother Earth is proud to be at the forefront of creating better for you snacking options for New Zealand families. The team of experts based in Waikato have been making food that makes people smile for over 30 years. Using quality ingredients, ensuring the delicious taste and no artificial colours or flavours, it's easy to see why.
Introducing Wellbeing Bars – a delicious range of baked oat bars that support your holistic wellbeing.
New Wellbeing Bars provide important micronutrients to support your holistic wellbeing by combining the goodness of oats, seeds, nuts and grains with delicious fruit and decadent chocolate. Each Wellbeing Bar contains a nutritional benefit derived from natural sources – fibre, iron or magnesium – to help you.
Available in three delicious and nutritious flavours, Wellbeing Bars are the perfect snack. Whether it's a 3pm craving, pre-gym bite, road trip snack or lunchbox delight, there's a bar for every occasion.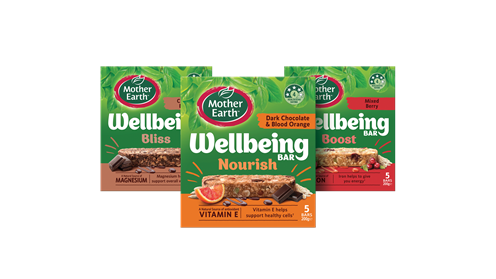 Bliss
This yummy Chocolate Brownie flavoured bar is a natural source of magnesium to support overall wellbeing, including normal psychological function. Time for a break with a tasty treat? This bar will leave you blissfully satisfied.
Boost
The Boost Wellbeing Bar provides a natural source of iron, that contributes to the reduction of tiredness and fatigue. This moreish Mixed Berry flavoured bar is a great pick-me-up snack. Whether you're off to the gym, at work or on an adventure, boost your wellbeing with this bar.
Sustain
Looking for a snack that will help keep you going? The Sustain Wellbeing Bar is a natural, good source of fibre to help keep you going. With a delicious Dark Chocolate & Raspberry flavour, this bar is the perfect snack for a busy day at the office.