Pumpkin, Apple & Blackcurrant Vege Fruit Bites
Pumpkin, Apple & Blackcurrant bite sized snack in a handy resealable pouch!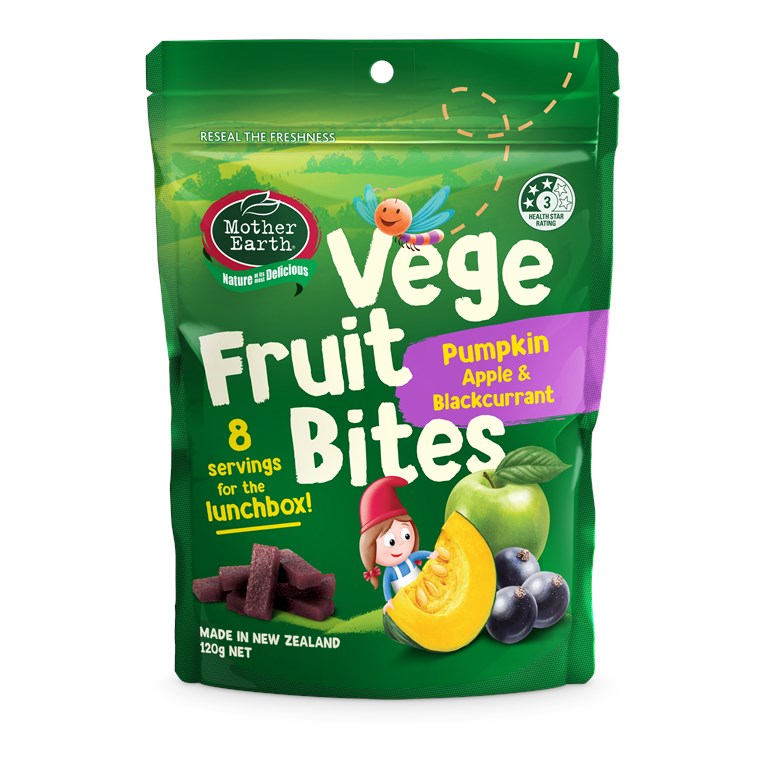 New
Made with real vegetable and fruit purees and fruit juice, these bite sized snacks are ideal for school lunchboxes. Vege Fruit Bites have no refined sugar added, and no artificial colours or flavours. Pectin is used instead of gelatine, so they're vegetarian friendly too.
No added refined sugar

Made with real vegetable and fruit purees

Made in New Zealand

Vegetarian Friendly

No artificial colours or flavours

3 Health Star Rating
PUMPKIN PUREE 26%, CONCENTRATED APPLE JUICE 25%, CONCENTRATED APPLE PUREE 24%, CONCENTRATED PEAR PUREE 17%, CONCENTRATED BLACKCURRANT JUICE 5%, CONCENTRATED LEMON JUICE, CITRUS FIBRE, PECTIN, NATURAL FLAVOUR.
Servings Per Package: 8
Serving Size: 15g
 
Avg Qty
Per Serving
Avg Qty
Per 100g
Energy
213kJ
1420kJ
Protein
0.3g
1.8g
Fat
<1g
<1g
Saturated
<1g
<1g
Carbohydrates
10.9g
72.9g
Sugars
9.3g
62.1g
Dietary Fibre
0.9g
6.2g
Sodium
3mg
22mg
MAY BE PRESENT: EGG, GLUTEN, MILK, PEANUTS, SESAME SEEDS, SOY, SULPHITES AND TREE NUTS
Nutrition information panel

The nutrition information panel on packs tells you the average nutritional values per recommended serving size and per 100g. The values per 100g help you compare the nutritional value between different products.

Pectin

Vege Fruit Bites are vegetarian-friendly because they use pectin, a setting agent that occurs naturally in fruit, instead of gelatine.       

Allergens

Allergens are highlighted in bold text in the ingredient listing on Mother Earth packaging, and there are also allergen statements under the ingredient listing.