Murukku
Crunchy twists that are salty and lightly flavoured with cumin seeds. Well known as a traditional Indian savoury snack and very moreish! Made with rice and chickpea flours.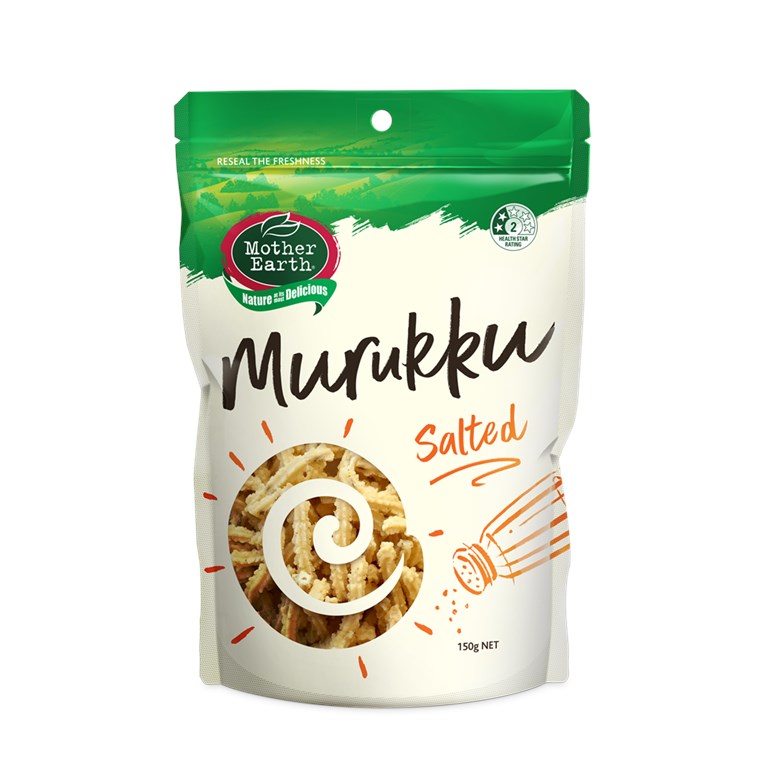 Mother Earth snacks have no added MSG and no artificial colours, flavours or preservatives.
Source of protein

Made in New Zealand
Rice Flour, Chickpea Flour (25%), Salt, Ajwain Seeds, Sesame Seeds, Cumin Seeds, Butter (Milk), Canola Oil
Servings Per Package: 3
Serving Size: 55g
 
Avg Qty
Per Serving
Avg Qty
Per 100g
Energy
1200kJ
2170kJ
Protein
5.2g
9.5g
Fat
16.4g
29.9g
Saturated
1.5g
2.8g
Transfat
<0.1g
<0.1g
Polyunsaturated
4.5g
8.1g
Monounsaturated
10.5g
19.1g
Carbohydrates
28.3g
51.5g
Sugars
0.4g
0.7g
Dietary Fibre
1.7g
3g
Sodium
528mg
959mg
May be present: Egg, Gluten, Peanuts, Soy, Sulphites and Tree Nuts.
Contains Sesame Seeds and Milk as indicated in bold type on pack.
MSG

MSG is monosodium glutamate. It can occur naturally or be added as an artificial flavour enhancer. No added MSG means the artificial version hasn't been added.

No artificial flavours and colours

No artificial colours or flavours! We only use colours and flavours that are derived from nature.

Preservatives

No preservatives means no preservatives have been added to prolong the life span of the product.