Chilli & Lime Flavoured Cashews 140g
Delicious cashews generously coated with chilli and lime seasoning and freshly roasted for maximum flavour!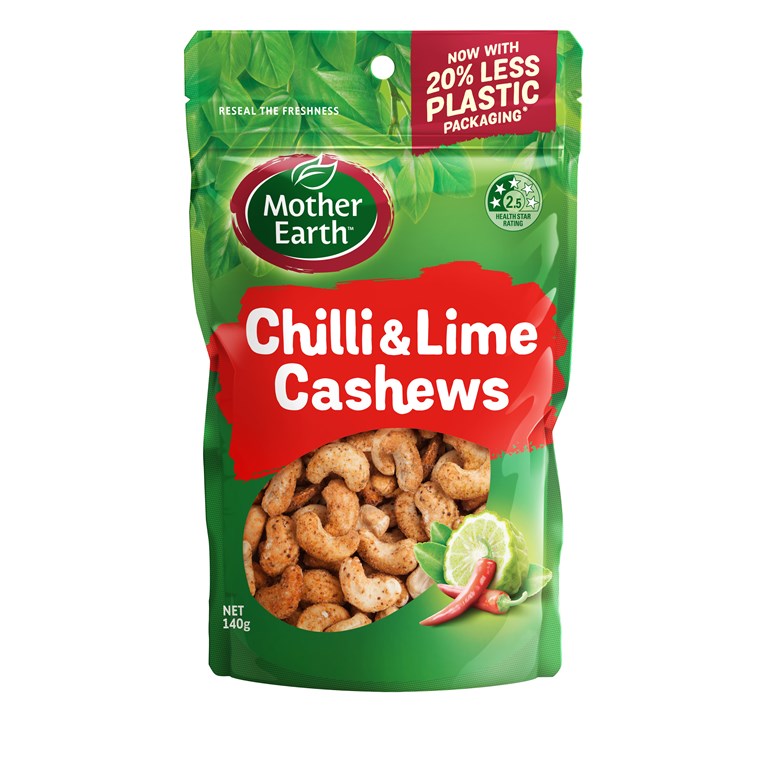 Source of magnesium

Source of zinc

Source of selenium

Source of vitamin B1

Source of monounsaturated fats

Roasted, Coated and Packed in New Zealand

Vegetarian friendly
Cashews (90%), Chilli and Lime Seasoning (Sugar, Salt, Dextrose, Vegetable Powders, Herbs & Spices (Including Chilli and Kaffir Lime), Citric Acid, Canola Oil), Gelatine, Thickener (Acacia Gum). 
Servings Per Package: 5
Serving Size: 30g
 
Avg Qty
Per Serving
Avg Qty
Per 100g
Energy
720kJ
2400kJ
Protein
4.7g
15.5g
Fat
13.4g
44.6g
Saturated
2.3g
7.6g
Trans
0.0g
0.0g
Polyunsaturated
2g
6.7g
Monounsaturated
8.4g
28.0g
Carbohydrates
7.8g
26.1g
Sugars
2.9g
9.8g
Dietary Fibre
1.7g
5.7g
Sodium
321mg
1070mg
Potassium
149mg
496mg
Magnesium
68mg
225mg
Selenium
9.0µg
30.0µg
Zinc
1.5mg
5.0mg
Vitamin B1
0.2mg
0.6mg
Contains Cashews as indicated in bold type on pack.
May be present: Egg, Gluten, Milk, Peanut, Sesame, Soy, Sulphites, Other Tree Nuts and Wheat. 
Product contains gelatine derived from beef

This product contains gelatine derived from beef, making it not suitable for vegans or vegetarians. 

Nutrition information panel

The nutrition information panel on packs tells you the average nutritional values per recommended serving size and per 100g. The values per 100g help you compare the nutritional value between different products.

Allergens

Allergens are highlighted in bold text in the ingredient listing on Mother Earth packaging, and there are also allergen statements under the ingredient listing.

Nut nutrition

Nuts causing weight gain is a myth. Nuts naturally contain many nutrients and good fats, which keep you fuller for longer.