Raspberry Better Bar
A soft chewy muesli bar with the goodness of oats combined with the sweetness of soft raspberry pieces that is sure to be a family favourite. We've reduced sugar by adding chicory root fibre.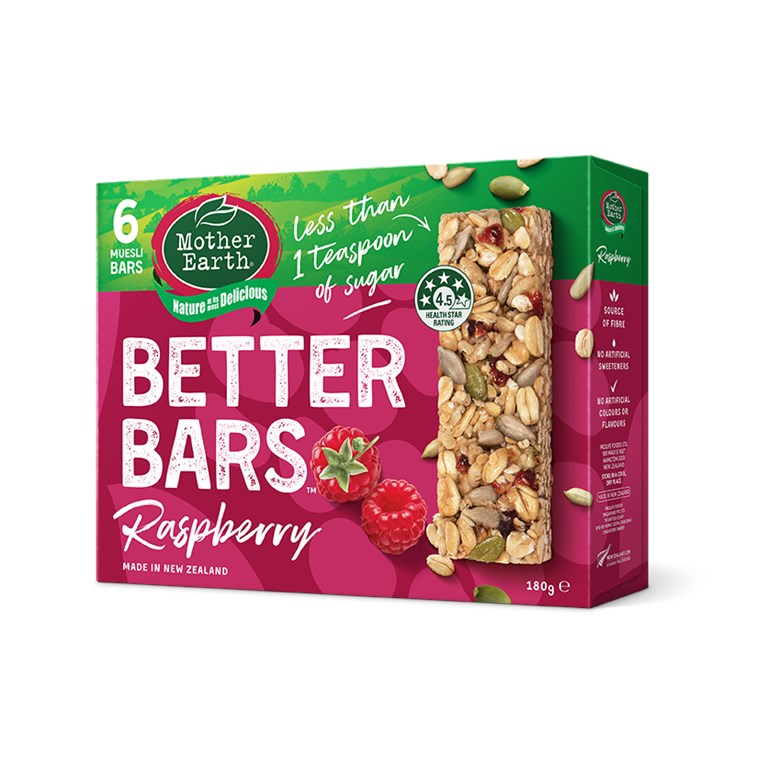 Our Better Bars include natural plant-based ingredients, such as oats, chicory root fibre, buckwheat and sunflower seeds. 
Less than one teaspoon of sugar per bar

4.5 Health Star Rating

No artificial sweeteners, colours or flavours

Great taste

Source Fibre

Made in New Zealand

Vegetarian and Vegan friendly
Wholegrains and Seeds 52% (Oats 64%, Sunflower Seeds 24%, Pumpkin Seeds 8%, Puffed Buckwheat 4%), Glucose Syrup (Contains Sulphites), Chicory Root Fibre 8%, Raspberry Pieces 7% (Fruit Raspberry Puree 27%, Concentrated Apple Puree, Concentrated Pear Puree, Concentrated Plum Puree, Concentrated Elderberry Juice), Invert Sugar, Sugar, Humectant (Glycerol), Wheat Fibre, Gelling Agent (Pectin), Acid (Citric Acid), Natural Flavour), Rice Pops (Containing Gluten), Rice Flour, Humectant (Glycerol), Sunflower Oil, Natural Flavour, Emulsifier (Soy Lecithin), Acidity Regulator (331), Acid (Citric Acid, Malic Acid), Salt. 
Servings Per Package: 6
Serving Size: 30g (1 bar)
 
Avg Qty
Per Serving
Avg Qty
Per 100g
Energy
537kJ
1790kJ
Protein
2.9g
9.6g
Fat
4.4g
14.7g
Saturated
0.5g
1.7g
Carbohydrates
17.3g
57.5g
Sugars
2.9g
9.8g
Dietary Fibre
3.8g
12.8g
Sodium
39mg
129mg
Contains Gluten, Sulphites and Soy as indicated in bold type on pack.
May be present: Egg, Milk, Peanuts, Sesame Seeds and Tree Nuts. 
Chicory root fibre

A soluble dietary fibre that comes from the roots of the chicory plant. This natural plant-based food ingredient can be applied to develop tasty, healthy food products. Besides fibre enrichment, it can be used to replace sugar and fat while improving taste and mouthfeel. 

Nutrition information panel

The nutrition information panel on packs tells you the average nutritional values per recommended serving size and per 100g. The values per 100g help you compare the nutritional value between different products.

Less than a teaspoon of sugar. What is a standard teaspoon of sugar?

4.2 grams - Based on the World Health Organisation (W.H.O.) standard measurement for one teaspoon of sucrose. Our Better Bars have less than one teaspoon of sugar per bar.