New Choc & Nutty range
Simply chocolish!
We love nuts and real chocolate, so we put the two together and crafted irresistible blends of freshly roasted nuts and dark chocolate. Enjoy the goodness of nuts with just a little indulgence.
We make the chocolate at our plant in Hamilton and pride ourselves in its smoothness and richness. Nuts are freshly roasted at our plant too.
Three new blends to try - all have crunchy, roasted nuts and we add either chocolate-coated nuts or chocolate chunks to crown the taste.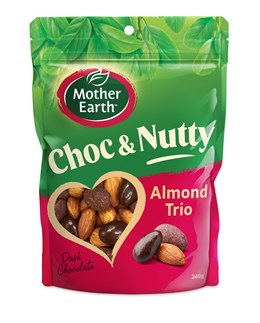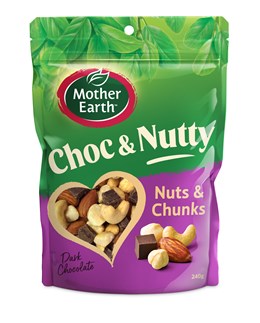 Almond Trio - delicious blend of almonds: dark chocolate coated, dark chocolate with raspberry dusting and roasted. Just a slim coating of smooth chocolate.
Nut Trio – divine blend of dark chocolate almonds & hazelnuts and roasted cashews. Just a slim coating of smooth chocolate.
Nuts & Chunks – freshly roasted almonds, hazelnuts, cashews, macadamias blended with dark chocolate chunks.